Events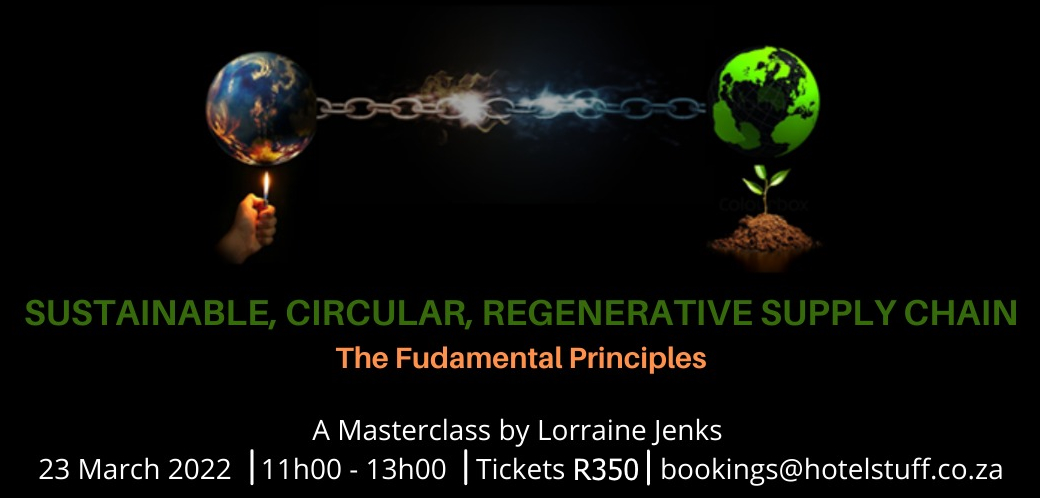 Sustainable, Circular, Regenerative Supply Chain - The Fundamental Principles
Invitation to join Lorraine's masterclass via Zoom.
Topics cover:
CLIMATE CHANGE 101: Let her fill the gaps in your understanding - The basic science, the causes, impacts, practical, realistic and simple solutions to implement immediately.
ECOSYSTEM PROTECTION AND ECOCIDE: What is devastating our biodiversity? Who is to blame? What can we do? How to make better choices.
SUSTAINABLE SUPPLY CHAIN, THE CIRCULAR ECONOMY AND REGENERATION: What are the differences to make products green, sustainable, circular or regenerative? Lifecycle assessments, tips and templates, record keeping, auditing and reporting for private and public sectors made easy, whether for lay citizens of professional managers.
MEASURING AND REPORTING: Techniques and links that do the work for you.
Date: Wednesday, 23 March 2022
Time: 11.00am – 13.00pm (CAT)
Venue: Online via Zoom
Cost: R350 (Hotelstuff/Greenstuff subscribers free)
Book your tickets now on Quicket: https://qkt.io/WB2TEQ