Stylish Living With A Conscience
Decorex's Overall Best Stand Award was won by The Living Green House, sponsored by Plascon and supplied by www.greenstuff.co.za, an innovative one-stop online resource for sourcing green and eco products for your home. The website has a twin called www.hotelstuff.co.za, which services hotels in the same way.
"Not only did The Living Green House represent a benchmark in showcasing green products, it proves that eco-caring has gone mainstream," says Melanie Robinson, director of Decorex SA. "Green products no longer have to stand back in terms of looks and style. This exhibit proved just how cool and cutting-edge green design has become."
The all-green house-scape was built and furnished with green-vetted products, green homewares, earth-loving appliances and vertical landscaping - sourced from various local producers and manufacturers - enabling Decorex visitors to experience what going green actually entails.
"Being green is not about bell bottoms, tofu, beads and Indian prints anymore," says Lorraine Jenks, the brainchild behind the websites, www.greenstuff.co.za and www.hotelstuff.co.za. "It's about stylish living with a conscience.
"And although items like organic cotton bed linen are expensive, a lot of the items are competitively priced, if not cheaper."
Called the "Little Green Queen", Jenks has spent her career as a hotel purchasing manager challenging suppliers on the source of pulp for paper products, furniture manufacturers on the origin of teak furniture in hotels, cleaning chemical manufacturers on phosphates that they pumped into river systems, and amenities suppliers on toxic chemicals in products. She has since been contracted to implement employment-generating recycling programmes in five Sandton based hotels.
For more information on the items featured, visit www.greenstuff.co.za and click on "Green Products", which will link you to the suppliers pages via www.hotelstuff.co.za.
---
PICTURES: JEAN-PIERRE DE LA CHAUMETTE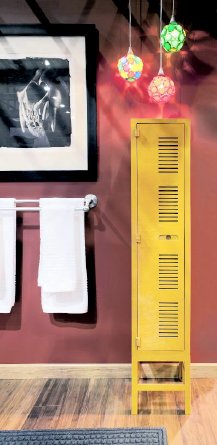 Paint: By Plascon with reduced VOCs (volatile organic compounds); Cabinet: By Raw Studios with all products made from sustainably sourced Finnish Birch Plywood that is PEFC certified (Programme for the Endorsement of Forest Certification); Photograph by Bob Cnoops using the Antique Van Dyke Brown printing process. Since 1860 the process has been used sporadically, primarily for pictorially aesthetic purposes. In the last decade it has regained its status as one of the most beautiful archivally permanent photographic processes ever invented; Bottle cap lights: By Heath Nash who recycles scrap into beauty with funky designs. Lightshades, light fittings, floor surfaces, candle holders and kitchen accessories made from materials that would otherwise end up in landfill -creating employment opportunities at the same time; Floor: By Oriental Bamboo using Mao bamboo, which has no impact on Panda habitat; Enviro-Mat: By Coba Matting, made from 100 percent recycled materials like plastic bottles and tyres.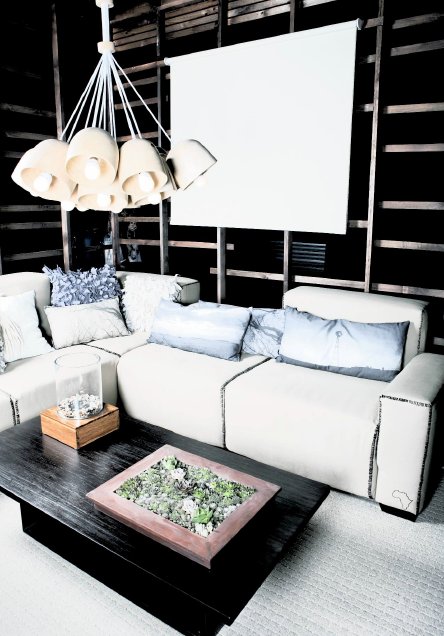 Couch: Built by Quantum Eco Furniture. Frame is reclaimed timber, padding is recycled latex foam, cushion is made from cotton and down, and fabric is 100 percent cotton locally grown and milled; Carpet: By Nouwens with a minimum of 80 percent pure new wool pile fibre, specially selected from the best quality imported carpet wools; Blind: Sheerweave 4500 blind which is Greenguard certified, from Blind Time; Pendant chandelier: By David Krynauw using salvaged Jacaranda stumps to create a series of light fittings that vary in size, depending on which part of the tree is used; Cushions and throws: By Side Attraction3, all locally designed and manufactured. Woven from hemp, linen and cotton using natural pigment dyes and water-based inks; Bamboo coffee table: By Formfunc; Living frame garden: By Tiakaya, a bed of miniature succulents interwoven to create a textured, living painting within a recycled timber frame; Biofire: Uses Biofuel, a renewable source plant derivative, and it burns with a bright flame which does not produce any smoke, fumes or odour.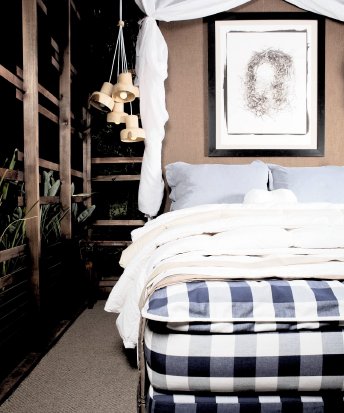 Pendant chandeliers: Made by David Krynauw using salvaged Jacaranda stumps; Photograph: by Bob Cnoops, using the Antique Van Dyke Brown printing process. All printed on superior Fabriano 300 gsm watercolour paper; Mosquito net: Pure linen, by Kiwinet; Bed: 100 percent natural Hastens bed, handmade using natural materials such as horsehair flax, wool, cotton, down and pine from the forests of northern Sweden; Carpet: Nouwens carpet has a minimum of 80 percent pure new wool pile fibre, specially selected from the best quality imported carpet wools. Wool fibres are naturally water repellent and antistatic, which improves soil resistance and ease of maintenance; Bed linen: Unless it is organic, cotton is not green. Preferred bedding options would include flax linen, silk, goose feathers, corn fibre, bamboo and hemp. On rather than buy new, why not get Sleep Co to recover your old feather duvet. Suppliers of alternative bedding included are Sneeuberg, Lifsons, Sleep Co, Amock Mania, Falucca and Oak Avenue.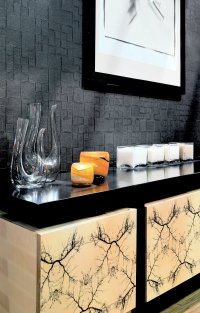 Wallpaper: By Wall Design, from their Meilleur range, which is 20 percent recycled content and fabric backed for better durability. Using highly cleanable, water-based inks; Sideboard: By Raw Studio, made from sustainably sourced Finnish Birch Plywood and finished in water-based varnish; Glass vases/jugs: By Ngwenya Glass, handmade using old bottles, old newspaper and old engine oil; Photograph: By Bob Cnoops, using antique Van Dyke Brown printing process.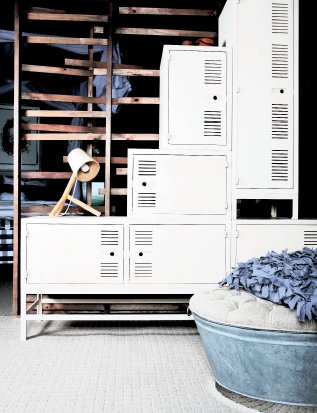 Wall unit: By Raw Studios, made from sustainably sourced Finnish Birch Plywood that is PEFC certified; Pure wool carpet: By Nouwens - naturally water repellent and antistatic; Old galvanized tub: Repurposed as an ottoman by Recreate and given polished steel base and natural raw linen upholstery with deep button and piping detail; Baby dowel light: Made from salvaged jacaranda stumps by David Krynauw; Cushions: Locally made by Side Attraction 3 and woven from hemp, linen and cotton using natural pigment dyes.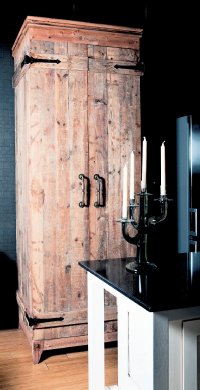 Pantry: Designed by Tartan Studio, made by Soda, using solid timber from sustainable sources and reclaimed wood and antique hinges; Counter: Made of Second.Life stone from Cannata, a new engineered eco-stone that reintegrates 95 percent of stone materials that have previously been different forms and applications. The stone is Greenguard and Green Building Council certified and ideal for bathroom and kitchen applications as well as floor and wall cladding; Candelabra: Made by Ngwenya Glass using old bottles, old newspaper and old engine oil.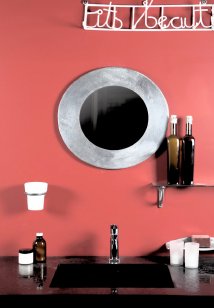 Bathroom fittings: By Ironwood Creations - sandcast recycled aluminium using old engines and car parts as well as other scrap aluminium. The furnace used to melt and mould the products runs on old engine oil; Toiletries: By Hemporium, using hemp which is considered the world's premier eco-resource. It can be grown organically with ease and can be used to make a multitude of products including construction materials, textiles, oils, soaps and food. All bottles, tubes and packaging recyclable with no finished product being tested on animals; Vanity by Caesarstone, a quartz surfacing company that carries global standard ISO 14001 certification for environmental protection.